Throughout the Cold Spring Harbor Library stand the works of local artists, including paintings hanging on the walls and freestanding sculptures strategically placed to enhance the building's beauty. But did you know that one wall of the reference room was sized specifically to fit the 10-foot mural that hangs on it?
Reflections II: Lloyd Harbor View is a 10-foot oil painting depicting a view of the water and causeway in Lloyd Neck. It currently hangs on the wall of the Library's reference room, directly opposite the entrance to the room from the lobby. Painted by local artist Pauline Gore Emmert in 1979 as part of her Master's in Art thesis, Reflections II eventually came to the attention of then-CSH Library director Helen Crosson, who asked Emmert to loan the painting to the Library for its new building. In fact, Crosson actually "changed the shape of the reference room to accommodate this piece," making the wall 140 inches to fit the mural's 120-inch length. Originally on long-term loan to the Library, Reflections II was officially gifted to the Library in 2011.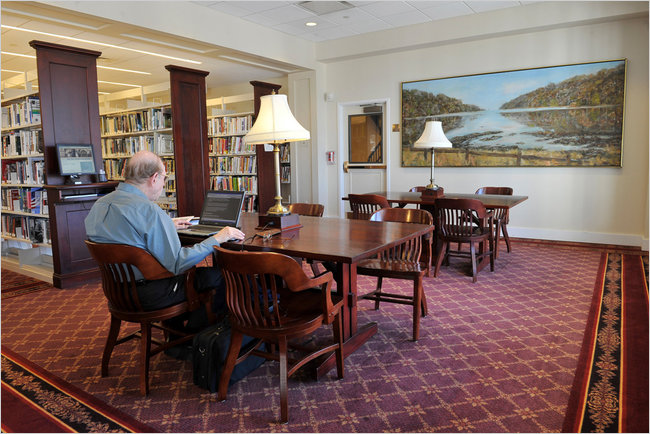 Pauline Gore Emmert is a local artist who first took up painting at age 43 to fulfill her life's dream, going back to school and achieving a Bachelor's and Master's with Honors in Art from C.W. Post. A second cousin to former Vice President Al Gore, Emmert has painted numerous scenes of the Lloyd Harbor area, including a depiction of "The Great Oak" of Lloyd Neck, which also hangs in the Library. In fact, Emmert was the first artist featured in the Library's Gallery in the Round when it opened in 2011, displaying eight of her landscapes in this art show.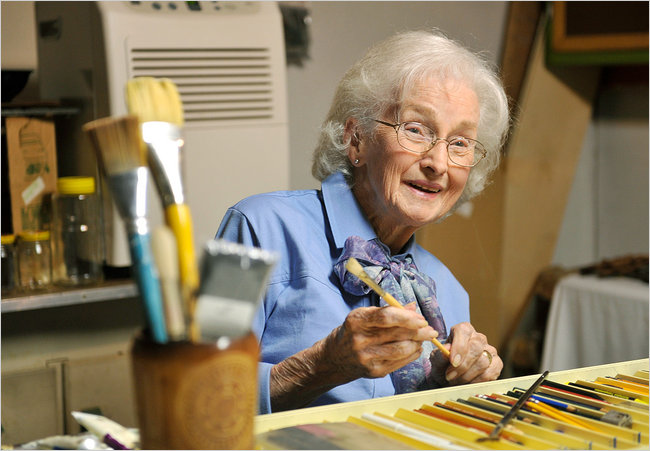 Sources
http://www.nytimes.com/2010/12/19/nyregion/19artsli.html?_r=0
http://www.cshlibrary.org/newsletter/issues/201101-newsletter.pdf
http://www.cshlibrary.org/fyi-friday-the-big-oak-of-lloyd-neck/