Visiting a museum is an enjoyable and educational way to spend time, both for individuals and as a family activity. But did you know that you can borrow passes for specific museums from the Library, just like you were checking out a book or dvd?
The Library currently owns membership passes to 9 different museums, both local and in New York City, which Cold Spring Harbor Library cardholders may borrow. Only one patron can check out a particular pass at a time – i.e., these are not entrance tickets being distributed, but a single pass that is borrowed and must be returned. Each museum pass allows a group of between 4 and 6 people entrance to the museum – details vary according to each individual museum, so be sure to check! Patrons can check out a pass for up to three days, and passes may be reserved up to three months in advance. However, only one pass can be checked out OR reserved at a time, per family.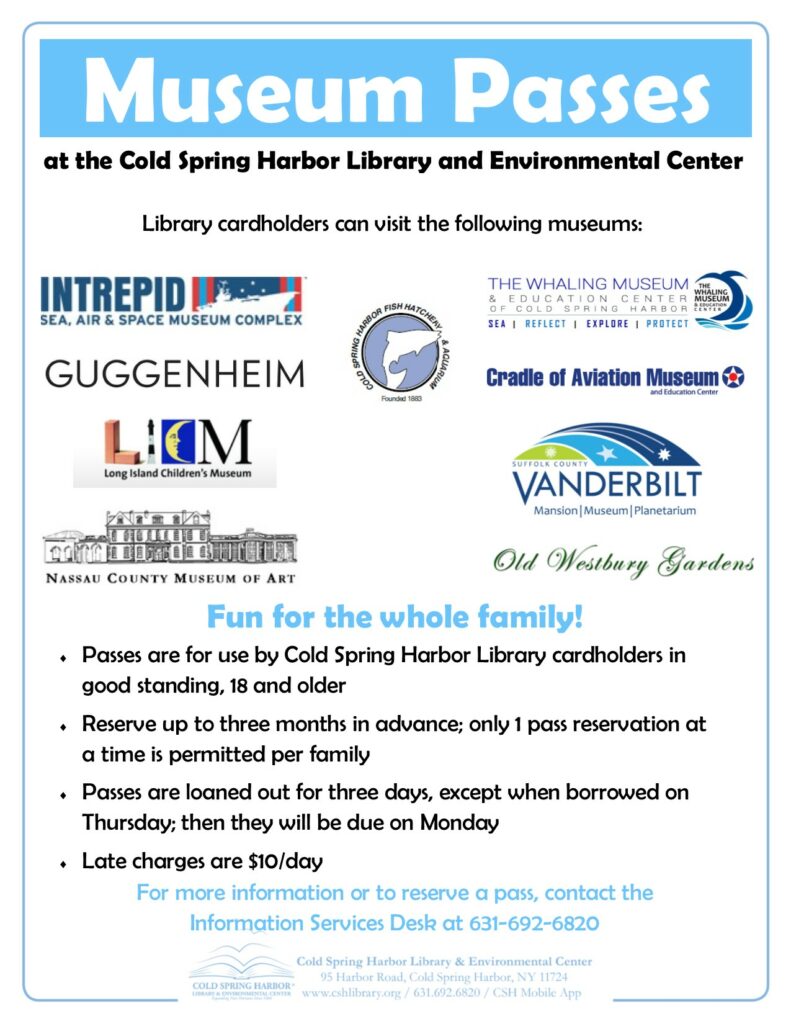 The museum passes currently owned by the CSH Library are:
NYC Museums
Guggenheim Museum
Intrepid Sea, Air & Space Museum
Long Island Museums
Cold Spring Harbor Fish Hatchery
Cold Spring Harbor Whaling Museum
Cradle of Aviation
Long Island Children's Museum
Nassau County Museum of Art
Old Westbury Gardens
Vanderbilt Museum & Planetarium
For more information, including rules and restrictions, visit the Museum Passes page on our website.
To reserve a pass or ask a question, visit or call Information Services at 631-692-6820.