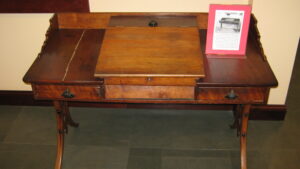 If you've visited the lobby area of the Library recently, you may have noticed the antique wooden desk on display across from the Circulation Desk. But did you know that the desk once belonged to the principal of a schoolhouse on Main Street in Cold Spring Harbor, back in the early 1900's?
Prior to the existence of the DNA Learning Center, the East Side School, a two-story wooden schoolhouse, was located on this site. This building lasted from 1870 to 1924, housing 1st through 5th grade on the first floor, and 6th through 8th grade on the second. The principal of the school, Miss Kitts, kept the antique desk on the second floor and used it to hold attendance records.
In 1925, a new brick schoolhouse was built on the site, and eventually in 1987 this building became the Dolan DNA Learning Center, the school having previously moved to a new space due to overcrowding.
The desk is on permanent loan to the Library thanks to Bill Norton, who inherited it from his mother Margaret "Maggie" Norton after she passed away in June 2015 at 105 years old. Margaret was born in Cold Spring Harbor and lived there nearly her entire life, teaching at both the Main Street School and the former East Side School, now Goose Hill Primary School.
Those interested in more details of Margaret Norton's life or historical Cold Spring Harbor can check out her book, Maggie's Memories, from our collection, or read this article from The Long Islander written on the occasion of her passing.
Sources: Maggie's Memories  |  Goosehill Primary School  |  The Long Islander