Jane Austen's novel Pride & Prejudice was published 200 years ago this year. Enjoy one of the many books or movies inspired by Austen's life and work.

NOVELS
An Assembly Such as This: A Novel of Fitzwilliam Darcy, Gentleman by Pamela Aidan
Told from the perspective of Mr. Darcy, the first installment of a trilogy based on Pride & Prejudice.
Austenland by Shannon Hale (eBook)
Because her obsession with Mr. Darcy ruining her love life, Jane is delighted to take a trip to an English resort catering to Austen-crazed women.
Austensibly Ordinary by Alyssa Goodnight
When she discovers a journal that could be linked to Jane Austen, Cate invents an alter ego that gets her in hot water with a mystery man and her co-worker Ethan.
The Bad Miss Bennet by Jean Burnett
The recently widowed Lydia Bennet searches for a wealthy replacement for the deceased Wickham from Paris to Venice and even at her sister Elizabeth's home at Pemberley.
Definitely Not Mr. Darcy by Karen Doornebos
Chloe, a divorced mother and lifelong member of the Jane Austen Society, auditions for a Jane Austen-inspired TV show that turns out to be a reality dating show set in 1812.
Jane Austen in Scarsdale: Or, Love, Death, & the SATs by Paula Marantz Cohen
In a tale inspired by Austen's Persuasion, guidance counselor Anne Ehrlich helps her students through college admissions, and remembers a past love whose nephew requires her assistance.
Jane Bites Back by Michael Thomas Ford
Alive and well as a vampire in the modern world, Jane Austen anonymously runs a bookshop in a sleepy town. Suddenly in the spotlight, she must hide her real identity–and fend off a dark man from her past while juggling two modern suitors.
The Lost Memoirs of Jane Austen by Syrie James
The discovery of an old chest in the attic of the Austen family home reveals secrets about Jane's private romantic life and the inspiration of her beloved works.
The Man Who Loved Jane Austen by Sally Smith O'Rourke
After discovering a letter to Jane Austen from Fitzwilliam Darcy, a supposedly fictional character, in the back of her antique vanity's mirror, Eliza searches for the only man who knows the truth behind this mystery.
Pemberley Ranch by Jack Caldwell
Attraction develops between northern transplant Beth Bennett and former Confederate soldier Will Darcy in post-Civil War Texas, but Beth's prejudice against the Confederate Army puts her livelihood in grave danger.
The Perfect Bride for Mr. Darcy by Mary Lydon Simonsen
Georgiana Darcy sees that Elizabeth Bennet is a perfect match for her brother and enlists the help of her cousin, Anne de Bourgh, to bring them together.
Rude Awakenings of a Jane Austen Addict by Laurie Viera Rigler
Jane Mansfield, a gentleman's daughter from Regency England, inexplicably awakens in present-day L.A. with memories that are not her own and a friend named Wes, who is as attractive and confusing as the man who broke Jane's heart back home.
MYSTERIES
Death Comes to Pemberley by P.D. James (audio download, CD book, eBook)
Pemberley is thrown into chaos after Elizabeth's disgraced sister Lydia arrives and announces that her husband Wickham has been murdered.
Jane & the Madness of Lord Byron by Stephanie Barron
While visiting the seaside, Jane is called upon to investigate the scandalous death of a young woman who was discovered in the bed of none other than George Gordon, otherwise known as Lord Byron.
Murder at Mansfield Park by Lynn Shepherd
A retelling of Austen's Mansfield Park transforms Fanny Price into a spoiled and hateful heiress and Mary Crawford into a sweet-natured neighbor who comes into her own when Fanny is murdered.
Murder Most Austen by Tracy Kiely
Attending a Jane Austen festival in Bath, Elizabeth meets a self-proclaimed Austen expert who suggests that a darker story is hidden within each Austen novel and that he knows unsettling truths about the author's death.
Suspense and Sensibility, or, First Impression, Revisited by Carrie Bebris
Newlyweds Mr. and Mrs. Darcy identify a seemingly ideal suitor for Elizabeth's younger sister, a situation that turns bizarre when the young man's personality undergoes a radical change.
NONFICTION
All Roads Lead to Austen: A Yearlong Journey with Jane by Amy Elizabeth Smith
Details the author's yearlong journey organizing book clubs devoted to Jane Austen novels in Central and South America, during which she discovered friendship and love, and learned about life and the power of Austen.
Flirting with Pride & Prejudice: Fresh Perspectives on the Original Chick-Lit Masterpiece edited by Jennifer Crusie with Glenn Yeffeth
Leading authors in the area of women's literature and romance contributed to this fresh collection of essays.
A Jane Austen Education: How Six Novels Taught Me About Love, Friendship, & the Things That Really Matter by William Deresiewicz (eBook)
An Austen scholar reveals how the life lessons hidden within Austen's novels, including her belief in the value of ordinary lives, transformed his own life.
Jane & Her Gentlemen by Audrey Hawkridge
A thoughtful study of the men who came into contact with Austen, as well as those she created.
Jane's Fame: How Jane Austen Conquered the World by Claire Harman
A complete biography of both Jane Austen and her lasting cultural influence.
The Real Jane Austen: A Life in Small Things by Paula Byrne
This revealing portrait of the beloved novelist presents a modern take on Austen and the world that shaped her.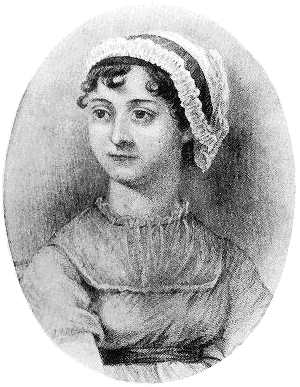 DVDs
Becoming Jane (2007)
When the dashing Tom Lefroy enters Jane Austen's life, he offends the emerging writer's sense and sensibility. Soon their clashing egos set off sparks that ignite a passionate romance and fuel Jane's dream of doing the unthinkable–marrying for love.
Bride & Prejudice (2004)
Based on Pride & Prejudice, with a Bollywood twist. In an Indian village, the determined Mrs. Bakshi sets out to find marriage matches for her four daughters. Second sister Lalita meets American Will Darcy–is it love?
Bridget Jones's Diary (2001)
Bridget, a single career woman, is torn between her disreputable boss and Mark Darcy, a disagreeable, but attractive acquaintance in this comedic homage to Pride & Prejudice.
Clueless (1995)
It's not easy being the most popular and glamorous girl at Beverly Hills High, yet somehow 15-year-old Cher manages. Loosely based on Austen's novel Emma.
Emma (1996)
Emma Woodhouse imagines that she dominates those around her in the small town of Highbury, but her inept matchmaking creates problems for herself and others.
The Jane Austen Book Club (2007)
Six members of a book club centered on books by Jane Austen realize that her works are similar to their modern relationships.
Persuasion (1995)
Anne Elliot is persuaded to break off an engagement to Captain Wentworth, but tensions are resumed when they meet again eight years later.
Pride & Prejudice (2005)
Pride & Prejudice (1995)
The story of lively and rebellious Elizabeth Bennet, one of five unmarried daughters living in the countryside of 19th century England, in a world where an advantageous marriage is a woman's sole occupation.
Sense & Sensibility (1995)
Two sisters, sensible Elinor and passionate Marianne, find their chances at marriage seem doomed by their family's sudden loss of fortune.