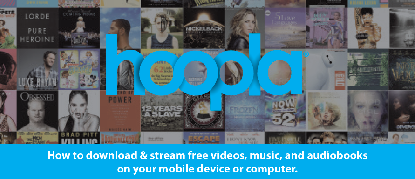 1. Register for a hoopla account at hoopladigital.com, or use the hoopla mobile app on your supported iOS or Android device, or Kindle Fire HDX, (note, however, that the Kindle Fire HD is not supported). You will need to provide an e-mail address, create a password, and have your library account information ready. The free hoopla mobile app can be found in the App Store and the Google Play store.
2. Easily browse titles on your computer or mobile device by clicking Browse All for your selected format (MOVIES, TELEVISION, MUSIC, EBOOKS, AUDIOBOOKS, or COMICS). You can also search for a specific title by clicking on the Search box or magnifying glass and typing in your title(s)/keyword.
3. To borrow a title, click on the title and then click the Borrow button. Your borrowed titles can be found under the My Titles menu and are available for instant streaming or temporary downloading. Enjoy your selected titles!
4. Check out up to eight titles per calendar month! Borrowed titles will be automatically returned when your lending period is over. There are no holds, wait lists, or late fees for any of hoopla's content.
Movies and TV shows are checked out for 3 days
Music is checked out for 7 days
eBooks, comics, and audiobooks are checked out for 21 days
---
Please note that while many different devices support hoopla, certain models are incompatible with the app. Click the Supported Devices link on Hoopla's Help page for details.
If you need additional help, visit the help section on the hoopla mobile app, or click on the Help link found at the bottom of hoopladigital.com.