Halloween is almost here! Enjoy a scary novel or non-fiction account of the paranormal.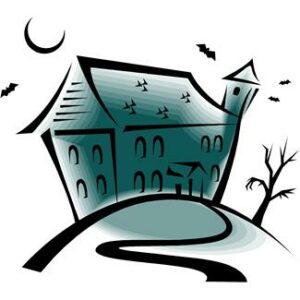 Superstition by David Ambrose
A university researcher's psychology experiment goes horribly awry when a group of volunteers, instructed to create a fictitious ghost, succeeds all too well and raises a specter that begins to take their lives.
Isis by Douglas Clegg
After her beloved brother dies after saving her from her rageful governess, Isis Villiers learns that the family burial crypt on the grounds holds mystical powers to raise the dead.
The House of Lost Souls by F.G. Cottam
In an effort to save his sister from the madness that is threatening the lives of guests at derelict Fischer House, Nick Mason teams up with a troubled man who escaped the house a decade earlier, and learns of an unspeakable crime that occurred at the house in the 1920s.
Weird New York: Your Travel Guide to New York's Local Legends and Best Kept Secrets by Chris Gethard, Mark Moran, and Mark Sceurman
Odd legends, bizarre beasts, and twisted mysteries from throughout New York.
The Strain: Book I of The Strain Trilogy by Guillermo Del Toro and Chuck Hogan
A vampiric virus infects New York and spreads outward, threatening the city and then the world, as a CDC doctor and a Holocaust survivor fight to save humanity.
Heart-Shaped Box by Joe Hill
A collector of obscure and macabre artifacts, unscrupulous musician Judas Coyne is unable to resist purchasing a ghost over the Internet, which turns out to be the vengeful spirit of his late girlfriend's stepfather.
The Man in the Picture: A Ghost Story by Susan Hill
A  mysterious painting has the power to demonically possess the minds of people who stare at it.
Unbelievable: Investigations into Ghosts, Poltergeists, Telepathy, and Other Unseen Phenomena from the Duke Parapsychology Laboratory by Stacy Horn
Investigates the scientific community's attempts to prove or disprove the existence of the paranormal world.
The Dead Path: A Novel by Stephen M. Irwin
After the death of his wife, Nicholas Close is haunted by ghosts doomed to repeat their final violent moments, a situation that sweeps him into a disturbing series of disappearances and murders involving an evil spirit.
No Doors, No Windows: A Novel by Joe Schreiber
After his father's death, Scott Mast discovers an unfinished manuscript that is a riveting ghost tale about a house with a hidden wing.  Learning that the house is real, Scott moves in to complete the novel.
A Winter Haunting by Dan Simmons
Returning to his hometown to pick up the pieces of his shattered life, Dale Stewart leases an empty farmhouse of a long-dead friend and finds that the house is haunted.
The New Annotated Dracula by Bram Stoker
An illustrated tribute to Stoker's classic shares additional insights into the historical plausibility of vampire lore, surveying more than two centuries of popular culture and myth.
American Fantastic Tales: Terror and the Uncanny from Poe to the Pulps & American Fantastic Tales: Terror and the Uncanny from the 1940s to Now, edited by Peter Straub
Collection of the American Gothic tradition, from Edgar Allan Poe to today's masters of terror and the uncanny.